HOTELS

RESTAURANTS

HOSPITALS

TRANSPORT
There are more than 30 hotels on the territory of Ul'yanovsk. Among them there are both the best business-class hotels and inexpensive hotels of an economy class. On our site some of them are presented:
Imperial Club Deluxe

Five-star Imperial Club Deluxe Park Hotel is located in the Alexander Park, on the banks of the man-made lake surrounded by park avenue. Room rates include breakfast, use of fitness center with pool, sauna, gym. Due to the favorable location of the hotel, you can get to the main airport, train station and the city center within 10-20 minutes. The hotel interiors are made in classic style. The hotel contains 16 rooms of different categories: suites, luxes and studios. Each room has air conditioning, the safe, telephone, hair dryer, television, high-speed Wi-Fi internet, minibar, curtaining.
Rooms from 5000 RUB
Art Ulyanovsk

The hotel is situated on the left bank of the city of Ulyanovsk in a quiet and free from the hassles and traffic jams place. It offers 118 rooms each with cable TV, LCD-TV, air conditioning, free Internet access via Wi-Fi, shower. Hotel complex "Art Ulyanovsk" includes: a hotel with a pool of 118 rooms, a restaurant "Heather" for 350 persons, 2 meeting rooms for 50 and 30 seats, a sauna and a swimming pool complex and parking. Special pride of hotel is the price policy which allows to cut down considerably the expenses of accommodation.
Rooms from 899 rubles
Crown

Hotel "Crown" is conveniently located in the center of Ulyanovsk on the high bank of the Volga river. The most important objects of the business, entertainment and cultural life of the city are located several minutes from the hotel . It features: multiple room categories (from luxury apartments to the first category of rooms), two conference rooms, meeting room, restaurant "Venice," bar "Olympus", parking, a supervised parking, business center, railway and airline cash desks, a beauty salon and a nightclub.
Rooms from 2400 rubles
Oktyabrskaya Hotel

Oktyabrskaya Hotel is located in the center of Ulyanovsk, a scenic location next to the park of culture and recreation. It offers 54 comfortable rooms, a conference room and a restaurant.
Rooms from 3100 rubles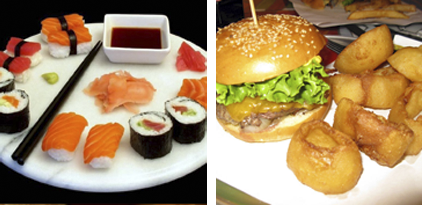 There are more than 800 institutions in Ulyanovsk: a wide selection of restaurants and cafes to suit different tastes. Among them are :Italian restaurant "IL Patio" and the restaurant «The easten express».
Italian restaurant "IL Patio"
It is a network of family Italian restaurants. Here you will find a diverse menu representing the original cuisine and culture of Italy. A house specialty of "IL Patio" — the real Italian pizza. Here it is prepared according to the rules - in the wood-fired oven on the open fire, to exact old Italian recipes, so the pizza turns unusually gentle, has a special taste, longer keeps the warmth and aroma. In the menu there is a large amount of meat, seafood and vegetables.
Restaurant «The easten express»
There are more than 35 types of sushi, more than 40 types of rolls, 14 sashimi, 9 allsorts are presented. Besides traditional Japanese dishes there are salads, soups, hot dishes, desserts, drinks (including alcohol), the bento-lunch (a Japanese lunch from 12.00 till 16.00 on weekdays) is offered in the menu.
Big coffee house "Windows"
In café there is a wide choice of coffee of high-quality , abundance of cold and hot appetizers, soups, original second dishes, pancakes and desserts.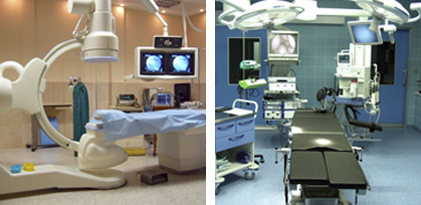 Medical institutions of the Ulyanovsk region are versatile and equipped with the most modern outfit and the advanced medical technologies. They are equipped totally for diagnostics, treatment and prevention of the majority of diseases: experience, professional staff, modern medical technologies and equipment.
"ACADEMY" Medical Center
Medical Center for the past six years remains the largest private medical diagnostic establishment in the Ulyanovsk region. More than 200 people address their complaints to this medical Center every day. Since the opening about 450-500 thousand people were provided with the medical assistance by qualified medical personnel. The center has two MD, 4 PhD, 54 highly qualified specialists, who help in 30 medical specialties.
"Medgard" clinic
One of standards of the clinic organization is obligatory existence in every polyclinic department, clinical laboratory, ultrasonic, radiation, endoscopic and functional diagnostics departments, reflexology and physiotherapy, pharmacy and endosurgical blocks with a a one-day hospital.